One for the Books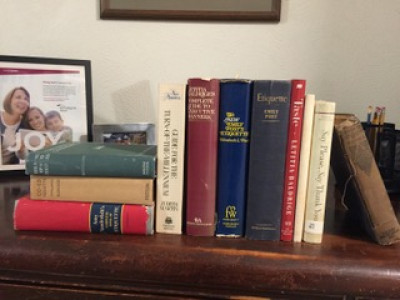 The printed word in today's digital culture is a treasure just as generational friends. Real books you can touch and hold while enjoying the message are timeless.
Recently, a high school classmate reached out to me through social media. When I didn't respond, she went 'old school' and started calling friends of friends, other schoolmates and even parents of friends to contact me.
My cell phone buzzed with an unknown caller number displayed. Answering with reluctance, I was so delighted to hear my friend Robin's voice. She laughingly admonished me for not reacting to her attempts to reach me through social media all while delighted to hear my voice.
She was calling to make me an offer I couldn't reuse. I was intrigued as she started talking about her current journey.
The Cherished Gift
Robin is a professional who has been displaced from her office during this pandemic we're experiencing. She decided to use this time to temporarily relocate back to Kerrville to help her dad, Gene.
Gene and his late wife, Nell, were longtime friends of my late parents. I have vivid memories of these couples, along with other friends, supporting community functions and charitable events. All the ladies paid special attention to proper etiquette no matter the occasion.
While cleaning out and going through collected possessions indicative a long marriage, Robin began sorting items. While in the 'library' she started noticing books penned for the soul purpose of making life better through etiquette.
Nell had collected books by renowned authors associated with proper etiquette. The more Robin looked the more etiquette books she found. Some books were specific to life events such as 'Bride's Book ', produced by a prominent jeweler, Evert's, with very detailed engagement and wedding protocols of the 1940's. The opening page states 'For the Evert's bride this book is filled suggestions and correct answers on wedding details…brings with it our best wishes and sincere hopes for your continued happiness.'
Notable experts such as Emily Post and Amy Vanderbilt wrote countless books on etiquette and lucky for me four of those books were in the gift from Robin and Gene.
What's Old is New Again
I've spent a bit of time with these precious books. A total of ten books grace my bookshelves lined up like soldiers waiting for me to read their passages. The oldest book, The Book of Etiquette, Volume II, was published in 1923 by Nelson Doubleday, Inc. and was written by Lillian Eichler. The first 25 pages address the household that is reminiscent of a recent and very popular PBS series set in the United Kingdom.
Better known etiquette expert Emily Post wrote many, many books on manners and protocols. The one included in my gift from Robin is 'Etiquette, The Blue Book of Social Usage' copyright 1955. Impressive to me is the inside page with the copyright information and her Library of Congress Catalog Card number!
1600 Pennsylvania Avenue
I feel like these books are best friends to me, each one special on their own merits. To pick a favorite would be hard, however, I must admit I'm starry-eyed about The Whitehouse connection. Letitia Baldrige was chief of staff to Jacqueline Kennedy during the Whitehouse years. She went on to advise four other First Ladies, wrote two dozen books and was the founder of her consulting business. I received two Baldrige books. One book is titled 'Taste – Acquiring What Money Can't Buy' penned in 2007. She covers who are people of taste, taste in fashion, tasteful surrounds and taste for entertaining. Ms. Baldrige's books are complimentary to another Whitehouse connection for Social Graces. Hmm…Would you like to know?
Finale
Yes, books are special to me. These books are especially close to my heart due to the fact friends from different generations thought of me when the etiquette books kept appearing. I look forward to taking these new additions to my collection on the Social Graces journey.